From warehouses to retail and supermarkets, polyurea exceeds traditional epoxy, silicone, and polyurethane materials to fill and seal concrete slab control joints.
Control joints, also called contraction joints by the American Concrete Institute, are planned gaps that allow a crack to occur at a vulnerable area to prevent random cracking. Concrete joints and their filler substance endure many stresses during the slab curing and service life, including shrinkage, traffic loads, and thermal cycling. In these slabs, the saw-cut control joint edges require protection to avoid severe spalling and deterioration where traditional materials are not always up to the task.
Efficiency and Productivity
According to a California-based sealant, caulking, waterproofing, and membrane system contractor, silicones and polyurethanes make sound control joint sealants. Still, they take at least 24 to 48 hours to fully cure and do not have the shore hardness to be reliable joint fillers. On the other hand, epoxies have the shore hardness to be joint fillers and can cure in four to eight hours but are not flexible or adhesive. They can crack on both sides of the concrete and disband prematurely.
As such, an expanding number of contractors have adapted to polyurea as a superior control joint filler and sealant for new construction, remodels, or remediation.
Because polyurea cure swiftly, joints can be filled during a lunch hour, and the concrete slab can be returned to service that afternoon. This assists with accelerated building timelines, when racking, forklifts and trucks come in the right after the floor is done.
Some polyurea systems begin to set in about 90 seconds and are tack-free in about 10 minutes—optimizing end-user timelines as well as contractor productivity. In contrast, applying epoxy usually takes two applications, requiring a work crew to return the next day after curing.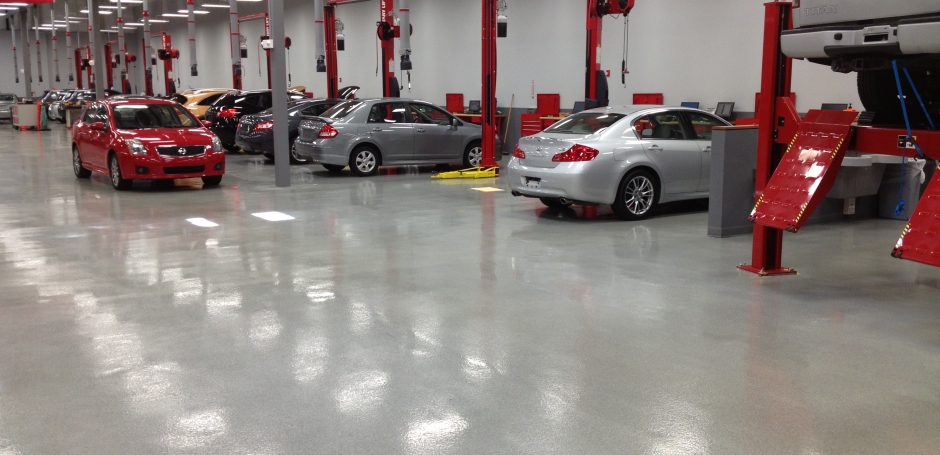 Warehouses, Freezers, and Showrooms
Contractors and end-users turn to performance-formulated polyurea for a wide range of specialized applications—from indoor concrete slabs in controlled environments to public access sidewalks fully disclosed to outdoor thermal cycling and heavy foot traffic.
In freezers and cold storage environments, polyurea can cure from -40 degrees to 130 degrees, be returned to service in an hour, and rbe approved by the U.S. Department of Agriculture and Food and Safety Inspection Service.
Performance-formulated polyurea also has been used in grocery stores, retail showrooms, big box shops, and other venues, including polished concrete and decorative concrete applications. They come in 68 standard colors and hundreds of custom colors, so the control joint can be accented with colors or patterns that complement the floor stain. 
In warehouses with specific staging areas for truck loading, some polyurea colors can be inset as line striping for safety or product staging.